Why do the brake pads wear inconsistently on both sides? How to deal with it
[Catalog:News] [Date:2021-10-29] [Hits:] [
Return
]
The wear thickness of the brake pads is inconsistent, and most car owners don't know. The maintenance technician said that the brake pads should be replaced. The car owner agreed to replace them, and then drove away. Responsible maintenance technicians will find out the cause and repair it. Technicians with a weak sense of responsibility or inexperienced will change to a new film, especially some interns. They don't know it's abnormal. Therefore, it is recommended that the car owner take a look after replacing the brake pads. First, see whether the thickness really needs to be replaced. Second, see whether the wear on both sides is consistent to determine whether there is a problem with the brake system. In addition, when checking the thickness of brake pads, both sides should be checked, and the inner and outer pads on the same side should also be checked
The wear on both sides is inconsistent. Most of the reasons are caused by the clamping of the guide pin of the wheel cylinder. When braking, the brake wheel cylinder moves along the guide pin. If the guide pin is lack of grease and does not move smoothly, there will be poor return of the slave cylinder. When we step on the brake, the brake oil pressure is high, which pushes the piston outward, the wheel cylinder can move normally, and the brake is also normal. But when the brake is released, there is no force to push the piston back, but the brake pads do not exert force, so there is no brake. If the wheel cylinder does not move smoothly, even if the brake is released, the braking force may not be released in a short time and will last for a few seconds. However, the braking force is relatively weak and can not be felt when driving. After a long time and more braking times, the brake pads on this side will wear more.
When changing the brake pad, I found this situation. Just lubricate the guide pin. It's best to clean up all the grease and dirt on it and apply new lubricating grease again, which can be completely solved. This step can be done when changing the brake pads. In fact, it is also what maintenance workers should do. Some new brake pads automatically contain a pack of lubricating grease. In addition to the stuck guide pin, there is also a case that the piston of the slave cylinder is stuck. The principle is the same as that of the guide pin. It is not easy to go back after coming out. It has been strongly applied to the brake pad, resulting in serious wear of the brake pad. Previously, the pump was completely stuck, and it didn't come out when you stepped on the brake, so you need to replace the wheel cylinder.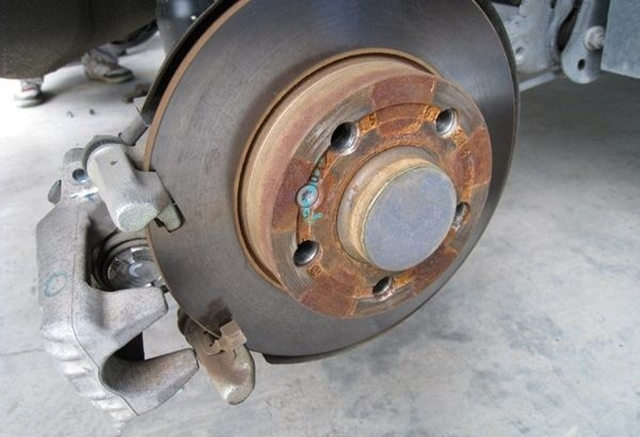 If it is not completely stuck, do not rush to replace it first. It may not be broken, but it may also be caused by lack of lubrication. You can use a tool to push the piston to the innermost part, then gently step on the brake to step it out, then push it in, and repeat the operation three or four times. The purpose of doing this is to let the brake oil lubricate the whole slave cylinder channel, and the piston move a lot. When I feel that the push in and step out are very smooth, it means that the slave cylinder has returned to normal. If it is still not smooth, the slave cylinder also needs to be replaced.